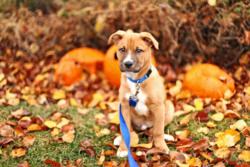 (PRWEB) October 26, 2012
Many pet owners are eager to include the family dog on Halloween dressing them up and taking them trick-or-treating.
But, Halloween can be a dangerous evening for dogs, says dog behaviorist Kimberly Mandel, a trainer with Best Friends Pet Care. If your dog gets over-excited by the ghosts and goblins and dashes off in pursuit of bags of candy, you could end up spending the night roaming the streets in search of a lost pet.
Mandel, who has seen many Halloween pet dangers during 15 years as a professional trainer, offers the following advice to help keep pets safe on the haunted night.
Be honest with yourself about your dogs temperament and behavior, she says. If your dog is shy or easily frightened, its just not fair to him; if your pet is unfriendly or anxious, its not fair to others. Even a friendly dog can become overexcited and knock down or injure a small child."
Some pets just arent cut out for Halloween, notes Mandel. If you have one of those, overnight boarding at a quality kennel is a smart idea. Your pet will be safe, having his own brand of fun, and you can focus on the children.
If you decide to involve your pet, keep her on a leash even if you are at home answering the door. The sights and sounds of the holiday can provoke even the best-trained dog to bolt.
Knocking and doorbell-ringing trigger barking in many dogs, adds Mandel, and Halloween can reinforce those undesirable behaviors. Your dog doesnt know that the people at the door were only planning to stop for a moment. He thinks his barking chased them off, so he tries it again and again and it works every time! Put him in a room away from the front door as soon as he starts barking. If you know this is an issue for your dog, get him out of the house completely.
Finally, remember that trick-or-treating is really about the children. Your pet wont mind skipping the holiday as long as he has some activity to keep him busy and a few of his favorite treats to make him happy!
For more tips on creating a pet-safe Halloween, visit the Best Friends Dog Dish Blog. Best Friends Pet Care provides boarding, grooming and doggy day camp at 42 locations across the U.S.