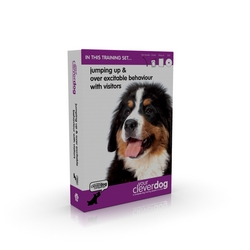 (PRWeb UK) January 10, 2011
This week sees the launch of a new concept in dog training. Your Clever Dog (http://www.yourcleverdog.com) is a professional range of DVD based dog training sessions – containing everything needed to train the perfect obedient and loving pet, all in one neat box.
The sets are produced by Devon based Smartdreamers Productions Ltd in association with the acclaimed pet behaviour counsellor Sarah Whitehead of The Clever Dog Company. Each one of Your Clever Dog training sets contains a DVD (approx. 40 minutes long), a training manual, a clicker (one of the most effective training devices) plus a special training tool that works alongside the DVD. Each box in the set is dedicated to a specific training problem. Unlike other training DVDs which simply give instructions Your Clever Dog includes everything needed to train your dog effectively and quickly.
All six training sets in the Your Clever Dog series have been endorsed by the Association of Pet Dog Trainers (APDT) and together cover all the most common dog training problems. Issues dealt with range from basic training, puppy biting and house training to the more specific challenges dogs often face such as coming when called, pulling on the lead and jumping up when over excited. These are all common problems for pet owners and it is important to tackle each specific area appropriately. With the professional advice and guidance provided by Sarah Whitehead in the DVDs and training manuals, pet owners will see positive results in as little as just 15 minutes. The DVDs contain filmed footage of real life untrained family dogs and the results seen are shown in real time.
With over 20 years experience as a professional trainer Sarah Whitehead now reveals to pet owners the tricks of the trade and proves that gentle, modern, and kind training is the most effective way to achieve results.
Each training set costs just